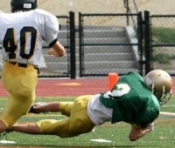 "I was really skeptical so I'm glad I found the
speed training
challenge, and
I can't believe how much it worked
!I went from running the length of my park (I'm not sure exactly how long it is) in
9.5 seconds to 8.7
! My
400m hurdles time also decreased dramatically
, which is good since I'm only a freshman and can continue to be one of the top 2 hurdlers on the track team for the next 3 years. Thanks a lot for the support, and I'll keep you guys posted on my times after using the full program. I can't wait for football now! Thanks again!"
Park length dash:


Before Time: 9.5
After Time : 8.7

400m hurdles :


Before Time: 68.6
After Time : 67.1
Pete G. – NY
"After just two weeks of this speed training exercise, I knocked 3.6 seconds off my personal best, and helped shatter my club's 4x400m record! The results were mind blowing, I thought someone had spiked my drinks with steroids!
I would recommend this speed training to anyone looking to run faster" – Harry Gibson
Harry G. – England
I live in Dallas, Texas and I'm working with my son and my nephew for the upcoming football season in high school. They've both been out of sports for years, so their 40 times have dropped. After doing the hip flexor exercises for 2 weeks, their times went from 5.28 to 5.08 and 5.74 to 5.47 in the 40!!! Excellent!!!
Frederick Harris – Texas
"I play soccer and I now sprint faster than ever before. And it's all thanks to your speed training exercise program. Everyone wants to know how I got so much speed, even though I recently had a hamstring injury. Thank you athleticquickness.com."
Zach – Centralia , IL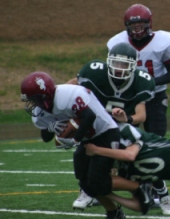 "I've have been wanting to become a running back for my football team and had trouble increasing my speed. I did many strength exercises like leg presses, leg extensions, and leg curls. I did get results in muscle size, but not that increase of speed.So, I went to youtube and watched the Speed Challenge video and did the thigh flexor exercise and I found quick results in my 40 yard dash! This increase in speed in so little time amazed me!"
40 yard dash:


Before Time: 5.27
After Time : 4.90

10 yard dash:


Before Time: 1.43
After Time : 1.21
Chris A. – Atco, NJ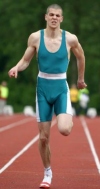 "Hi, I heard about this program shortly before I had my last event of the season. I wasn't planning on competing at that event, but was invited on short notice. So I was pretty out of shape and had not competed at a track meet for more than 6 weeks. Actually I was already doing heavy lifting to get ready for next season. But when the invitation came, I couldn't resist to go and compete. I felt not so strong during the warm-up, and wasn't expecting all that much after just 10 days of preparation to get in shape. The head wind was also pretty significant and my previous Personal Best was with a strong wind in my back. So I was pretty surprised that I ran a Personal Best. And I think it was mostly because I did 4 sessions with the resistant band in those 10 days. So doing just 4 sessions of only one excercise gives great results. So I can only imagine what my Personal Best will be next year after doing the complete program."

100 meter dash:
Personal Best Before : 11.29 (with wind at my back)
Personal Best After : 11.26 (with strong headwind)
Sebastiaan K. – Netherlands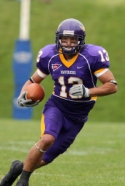 "This speed program is UNBELIEVABLE!After doing the speed challenge exercise for two weeks,
I came from running a 4.65 in the 40 yard dash to 4.35
on the track with spikes.
I also didn't think that I was running 40 yard dash, I thought that I was running a 30 yard dash because the results were so AMAZING. Until my friend and I discovered that it was 40 yard dash that I was running. I can't wait to see my time in the 40 yard dash on the football field with cleats.
Thank you, your speed program has been a blessing."
40 Yard Dash:


Before Time: 4.65
After Time : 4.35
Josh Harrison – Florida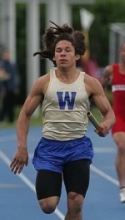 "I was really doubtful that this program would work, but when I finally tried it, it felt great. I feel so much faster. I've gone from an 11.9 to an 11.5 and can't wait to get the whole package and see how much faster I get."
100 meter dash:


Before Time: 11.9
After Time : 11.5
David B. – Elk Grove Village, IL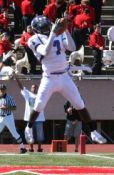 "I started the Speed Training Challenge looking for another opportunity to help get myself over the hump of hitting the next gear when it comes to reaching my top end speed. I am coming off a quad injury and have been unable to lift weights and perform exercises like I have been in the past with my football program.
I tried out the band exercises for 2 weeks and saw an immediate decrease in my 40 yard dash time by .2 seconds, from 4.7 to a 4.5. All within a couple weeks!. Of course I was amazed by such result, especially since I have always been used to intense weight lifting workouts and speed training from my colleges coaches to increase speed. But this has proven to be very valuable. Now I can't wait to try the rest of the program to see what else I can do."
40 yard dash:


Before Time: 4.7
After Time   : 4.5
James Thabuteau – Chicago, Il.
Cornerback – Truman State Univ.

"I play soccer regularly and I was always wanted to improve my speed in the game. I searched google and found the Speed training Challenge. I tried the exercise I noticed a huge difference in just one week of doing this isometric exercise. The results of my times amazed me! I never expected to improve in such short amount of time! This great exercise increased my speed and my opponents are having a hard time in keeping up with me! My performance now is truley impressive! I recommend this incredible program to everyone who wants to increase their speed. I can't thank you enough AthleticQuickness.com"
40 yard dash:

Before Time: 5.7
After Time    : 5.2

100 meter dash:

Before Time: 12.80
After Time    : 11.10
Tiago – Carnaxide, Portugal

I have been running since 7th grade. Each year, I kept getting better and better until about junior year of high school. My running had seemed to plateau and I was not getting any faster. I am now a sophomore in college and I am still running the times I ran in my junior year.
I wanted to be able to be more competitive at the college level but it seemed like no matter what I did or how hard I tried, my times were still the same and they were not getting any better
.
I came upon this website and tried the exercise about every other day for about 3 weeks. I just had my first outdoor meet of the season, and I ran my personal best in the 800 (2:32) .. a time I have never ever ran in an open 800.
I am excited now to keep this up and see what the rest of the season brings, and hopefully I can break 2:30 which is a goal of mine that I have had for a very long time.
800:


Before Time : 2:37
After Time     : 2:32

400:


Before Time : 1:06
After Time     : 1:04
Allison – Center Valley, PA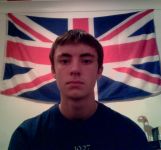 I play football (soccer) and I'm a central midfielder, but I've always been a bit slower than everyone else on my team. I'm very talented on the ball, but my speed was holding me back. I've done the speed training for 2 weeks, and
my 40 yard time has gone from 5.83 to 5.28, and my 100m time has gone from 13.3 to 12.2!
I am absolutely blown away by how good this has been. And now, my team can rely on me even more than usual. Thanks so much.
40 yard dash:


Before Time: 5.83
After Time   : 5.28

100 yard dash:


Before Time: 13.3
After Time   : 12.2
Carl B. – England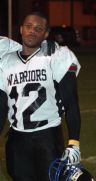 "After two weeks of using the resistance bands my
40 time went from a 4.63 to a 4.47
and I'm trying to get it lower. I am a
running back for the South Georgia Warriors Semi Pro football team
. I hope that this will help take my performance to the next level and help me to break the long runs."


Anthony H. – Georgia
"Thank you very much for introducing the 2 week challenge, the challenge has improved my 40 from a 6.85 to an incredible 5.17. Thank you so much once again and i hope to start the full program soon!!! !"
40 yard dash:


Before Time: 6.85
After Time : 5.17

100 meter dash:


Before Time: 15:46
After Time : 11:72
Patrick B. – Toronto
"I had visited the AthleticQuickness.com website a couple of times, and was very interested. I googled the site and found this Challenge. I also subscribed to the Speed Training lessons. I tried the exercise and in just one week found that my hundred time dropped from almost 8 tenths of a second!!! This has been a mind blowing increase for me as I have always been trying to get fast. My 400 time also dropped. This one exercise has completely changed me as an athlete!!! These times are after just one week of using the program. Anybody wants to get fast, USE THIS PROGRAM. I play rugby and this will help me immensely. Thank You AthleticQuickness.com!!!! "
100 meter dash:


Before Time: 12.67
After Time : 11.99

400 meter dash:


Before Time: 66.80
After Time : 63.11
R. B. – Indonesia

"Recently I've been trying to increase my speed for school track and field. On google I found the 2 week challenge. So i did the exercise and after 2 weeks i found my 40 yard time had gone from 5.62 to 5.35 and my 100m time had gone from 14.4 to 13.45. Also a week through this program and I beat my schools long jump record by 12 inches. I can't thank you enough…"
40 yard dash:


Before Time: 5.62
After Time : 5.35

100 meter dash:


Before Time: 14.4
After Time : 13.45
Jonathon C. – England
"My name is Robert Smith and I had a 11.9 in the 100 meter but after using this program my time went down to an 11.4 which to me is pretty incredible. Some people will say my time must have been wind aided and it probably was a little but while running I could feel the difference. I also feel as it has helped my quickness. I saw huge gains in my 100 and my 40. This will help me with my quickness in basketball and I really appreciate it. I did this program with my step brother and we have both seen amazing results."
40 yard dash:


Before Time: 4.7
After Time : 4.6

100 meter dash:


Before Time: 11.9
After Time : 11.4
Robert – Connecticut

"Hey my name is Jason and I'm a sophomore in high school. My biggest problem in football was my break away speed and the 2 week challenge has begun to help me with which you can see in the improvement in my 40. As I went from a 4.9 to a 4.6″
40 yard dash:


Before Time: 4.9
After Time : 4.6

100 meter dash:


Before Time: 12.1
After Time : 11.8
Jason – Connecticut

"This program worked wonders for my speed. After just 6 short sessions, my forty time and the 100 meter time dropped drastically. This new speed will help me in football to scramble out of the pocket and dodge defenders. I am so excited for next season to use my new speed!"
40 yard dash:


Before Time: 5.6
After Time : 5.1

100 meter dash:


Before Time: 12.7
After Time : 11.9
Andrew B. – Calgary
"My friend introduced the 2 week speed challenge to me. And like most people who are going to read this they won't belive how fast it makes you. I thought the idea of 3 minutes a day wouldn't give great results, though when I was timed by my coach 2 weeks later I ran .18 seconds faster. Every hundredth of a second counts. Not only did my 40 yard sprint increase but I noticed my agility increased a lot too. Thank you for the great 2 week speed challenge. Can't wait to do the rest of the workouts."
40 yard dash:


Before Time: 4.9
After Time : 4.72
Adrian H. – Massachusetts
"This the most amazing program i have used. I was doubtful at first because it was too easy, but later on I saw the results."
40 yard dash:


Before Time: 4.72
After Time : 4.41
Franchise – Texas
"Thanks a lot sir because of your speed training program i have decided to go back to my track team for next year in high school because me and my friends decided to go out in the field and test your program.
At begining i was very dissapointed with my time i felt so slow but then after the two weeks of your challenge my time in the 40 yard dash amazingly went down from a 6.17 to a 5.14. Ii am now the second fastest out of my friends."
40 yard dash:


Before Time: 6.17
After Time : 5.14

100 meter dash:


Before Time: 14.55
After Time : 11.26
Mohammed – Windsor, Ontario
"This thing really works – i love yall"
40 yard dash:


Before Time: 5.66
After Time : 5.14
Steve – Orlando, Florida
"As I started the program the exercises where tuff but throught the 14 days it was getting easier. In those 14 days I did not full out sprint but just jogged. when I timed my self for the second time it was amazing!!!
My legs just flew and i lost 8 seconds. Thank you for the amazing experince and i may try it agian, thnxs zevl"

Before Time: 28.57
After Time : 20.32
Zev – Toronto
"I have the baseball program and it is awesome! I am a junior in high school. I have been using the program for a week and a half and I am already seeing results in my hitting distance, bat speed, power, and arm speed.
I was already a good hitter with great bat speed. I had some power, but now I have a lot more because of these great exercises with the bands.
I am 162 pounds and I am 6 feet 3 inches tall. In batting practice I would always get close to the warning track or I would hit the warning track. The kids would always say, "Hit the weight room!" Now I am easily getting it to the fence and hitting a lot of hard balls.
I just recently hit two out of the park in batting practice.
These were my first balls over the fence since little league. It felt so good to finally hit a ball over the fence. My confidence in hitting has increased a lot because of this great program! I just wanted to thank you so much for this wonderful program!
Casey E. – Texas